---
Church of God of Prophecy Signs Agreement with Pentecostal Theological Seminary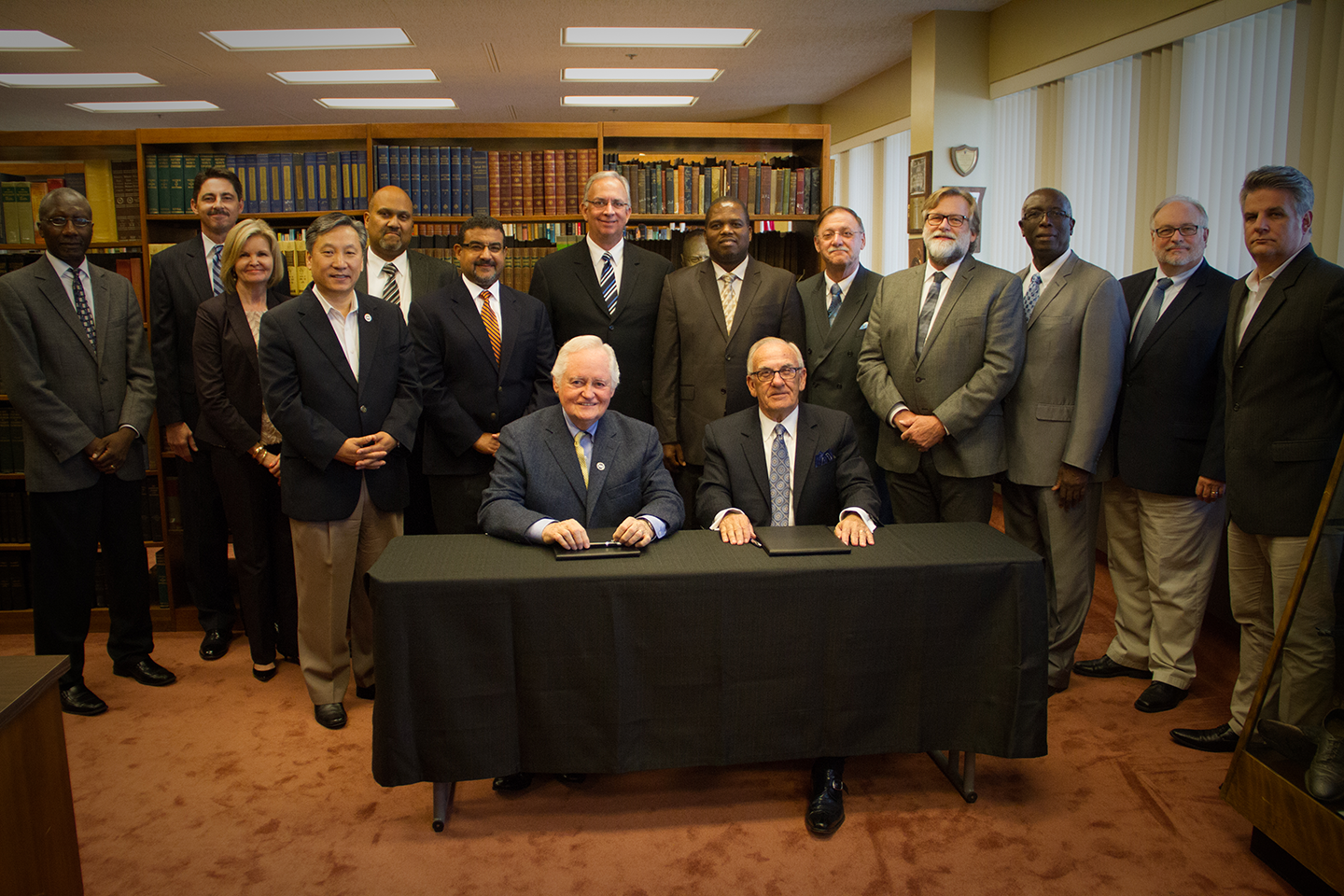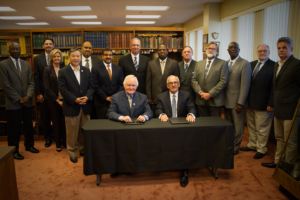 In an effort to further develop and equip its leaders, the Church of God of Prophecy (COGOP) has signed a "Memorandum of Understanding" agreement with the Pentecostal Theological Seminary (PTS), expanding educational options for the Church's leaders and members around the world.
Bishop Sam N. Clements, general overseer of the Church of God of Prophecy, and Dr. R. Lamar Vest, president of Pentecostal Theological Seminary, signed the agreement Tuesday at the COGOP International Offices in Cleveland, Tennessee, surrounded by the Church's General Presbyters and International Offices staff.
"This is a very exciting and wonderful day for the Church of God of Prophecy," Clements remarked. "We join hands with our brothers and come together in an agreement, this Memorandum of Understanding, so that we can work together to help educate our ministers and spread the Gospel message across this whole world."
The new agreement will see increased promotion of the seminary at Church of God of Prophecy events, scholarships and the option of cohort groups around the world offering certificate programs, graduate studies and even a doctorate of ministry. The programs will include: Diploma in Wesleyan Pentecostal Ministry (90 units), Master of Arts in Christian Ministry (48 credit hours), Master of Arts in Counseling (48 credit hours) and Doctor of Ministry (36 credit hours).
"This is an incredible opportunity," said Dr. Vest. "We're in the business of training people, our young men and women, to preach the Gospel of Jesus Christ. This is going to give us a grand opportunity to train a new generation to preach the Gospel."
Vest also remarked on the new partnership being a homecoming of sorts for the seminary, which is a Church of God institution, and the Church of God of Prophecy, a sister organization, both headquartered in the same city. Vest said the seminary offers the chance for COGOP members to learn from instructors in the Wesleyan Pentecostal tradition.
"These two organizations have grown up together," he said. "Our photo albums look alike."
The Church of God of Prophecy has educational arms already active, such as the Center for Biblical Leadership and agreements with Lee University Online and Massachusetts-based Gordon-Conwell Theological Seminary, which will continue.
Brian Sutton, an alumnus of PTS and lead pastor of Peerless Road Church in Cleveland, Tennessee, is serving as partnership coordinator and program coordinator for the COGOP along with Dr. David Han, vice president of academics for the seminary.
"With this, we can go into any part of the world and offer certificate, graduate, and post-graduate programs. With our focus on reaching the young harvest and developing them into leaders for the Church, this is a tremendous inroad to that," Sutton said.
Dr. Han also said he was "personally and professionally" excited about the agreement.
"This helps the seminary to fulfill its mission, which is to build the resources for the kingdom of God, but it also helps the Church of God of Prophecy working with us to provide the kind of education that its ministers would need," he said. "It's a win-win situation for us and I'm really excited about this collaboration that really carves a new path both for the seminary and the Church of God of Prophecy."
Along with Bishop Sutton and Dr. Han, additional members of the steering committee include Bishop Clements, Dr. Vest, Dr. J. David Stephens, Bishop Tim Coalter, and Bishop Clayton Endecott.
The first classes under the new agreement will launch in the fall of 2016, following recruiting and promotions that will culminate at the Church of God of Prophecy's International Assembly in July 2016 in Orlando, Florida.
More information will be forthcoming and available at www.cogop.org.