---
Historic Day for Education in the Church of God of Prophecy
AMD's Largest Graduating Class and First Doctoral Cohort Graduate in Boston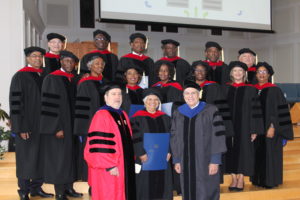 The Church of God of Prophecy celebrated a significant day recently, as the largest class of students graduated from Gordon-Conwell Theological Seminary, since the movement's partnership began over ten years ago.
At commencement activities conducted May 12, 2018, on the campus of Gordon College in Boston, Massachusetts, degrees were conferred on 45 Church of God of Prophecy students. Thirty students graduated with their Master of Arts in Religion degree, along with 15 students receiving their Doctor of Ministry (with Global Pentecostalism concentration).
At a luncheon honoring graduates following the ceremony, Dr. Hyacinth Campbell, a COGOP student and site coordinator for Jamaica, was honored with 2018 Alvin Padilla Award for Excellence in Leadership. This recognition is awarded by the leadership of Gordon-Conwell's Doctor of Ministry program to one graduate each year. Dr. Campbell was recognized for faithfully leading our partnership efforts in Jamaica, hosting a number of professors and staff in her home.
The previous evening, graduates participated in a baccalaureate worship service conducted in the campus chapel. The evening celebrated the achievements of the students, giving glory to God through student reflections, singing, and a sermon by a faculty member.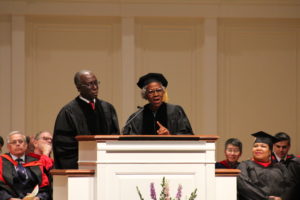 Drs. Clayton and Sonia Martin, general presbyter of the Caribbean and Atlantic Ocean Islands, were selected to give a joint student reflection on their experience in the program.
"In the past, we heard some say if you want to hide knowledge from certain Christians, write it in a book. They won't read it. They won't know. That has changed," said Dr. Sonia Martin. She continued, "Christians are on a journey desiring to know and declare the truth of God's Word so that purpose can be fulfilled."
Finishing their remarks, Dr. Clayton Martin concluded, "We have made it. We are finished. Well, we have completed this phase of our journey." He continued, "We will all touch the world through our lips and lives. All for the good of humanity and glory to God."
Following the worship service, Accredited Ministry Development hosted a reception for graduates and their families at a nearby hotel. During the reception, General Overseer Sam Clements congratulated all of the graduates and commented on the importance of their achievement for their families, local church, communities where they serve, as well as for the global movement. During the reception Dr. Hector Ortiz, originator of the partnership with GCTS, as well as Bishop Shaun McKinley, director of Accredited Ministry Development, were honored by delegates from Jamaica with commemorative plaques, presented by National Overseer Winston Leith and Site Coordinator Dr. Hyacinth Campbell.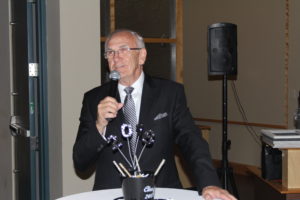 "We are proud of the achievements of this graduating class and look forward to their further engagement in the educational endeavors of the church," said McKinley. "Whether on the local, national, regional, or global level, we believe they will take the knowledge they have received and invest it into the ministers, leaders, and laity that God has placed within their care. I believe tremendous days are ahead for the Church as these graduates, and others like them, multiply their kind to preach the Gospel, disciple believers, and equip leaders to fulfill their calling."
2018 GCTS Graduates
Master of Arts in Religion
Earl Beneby
Horace O'Neil Bryan
Dorothy Clark
Levi Clarke
Fidel Antonio Cruz Dominguez
Darrel Lee Ferguson
Ian Ross Ferguson
Darrel G. Gaylor
Branson Damaso Gibson
Stephen Peter Greene
Dion Hepburn
Ben Ferrel Howard
Donna Jean Howard
Billie Ruth Jones
Jeffrey Collins Knowles
Judy Marie Lyles
Barbara Nelson
Sheri Marie Paquette
Irma Yolanda Perez Rojas
Hernando Heli Pinedo Rivera
Gersham Anthony Pratt
Alejandro Ramos Joseph
Ricardo Segundo Salva
Maurice Dominic Simms
Audrey Skervin
Daniel Felipe Travieso Placeres
Edward E. Virgil
Clarence N. Williams
Inell Elizabeth Williams
Scott Warren Zhivago Wilson
Doctor of Ministry
Hyacinth Campbell
Franklin Ferguson
Rovena Ferguson
Junior Headlum
Wantworth Heron
Andrews Husbands
Loretta Husbands
Donald Knoblich
Heidi Leith
Clayton Martin
Sonia Martin
Esther Osborn
Compton Wharton
Isabel Yanez
Jesse Yanez