---
AMD Hosts Certification Training for Leadership Development Ministries Staff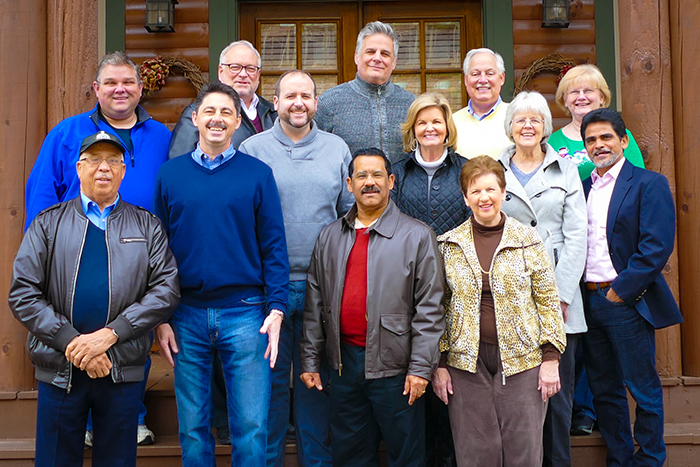 [stm_single_image img_alignment="center" img_responsive_enable="true" img_id="2852″]
This week, the directors and faculty of Leadership Development and Discipleship Ministries (Accredited Ministry Development, Center for Biblical Leadership, Children's Ministries, Communications, and Youth Ministries), gathered in Pigeon Forge, Tennessee for an intense training seminar on certification and accreditation processes.
The purpose of training, which was hosted by AMD, was to discuss how current and future training programs of these ministries might integrate into the educational initiatives of the church, so that participants might be able to receive academic credit toward certificates or degree programs in the near future.
Dr. Fernando Cascante, executive director of the Association for Hispanic Theological Education (AETH) and director for the Justo Gonzalez Center, presented three seminars to the group. These presentations provided the team with an introduction to the certification process, shared an orientation on syllabus construction, and led to deeper discussion on how to develop theological courses that serve the current needs of COGOP constituents.
"This training is just an initial step in responding to where I believe the Holy Spirit is leading us," said Shaun McKinley, director of Accredited Ministry Development. "As the ministries of LDD collaborate together, I believe we can continue to provide excellent, relevant training that has even greater intentionality and directs our students toward specific outcomes. My prayer is this process will direct us toward providing our constituents with the highest levels of training possible."
COGOP first became aware of AETH through its certification of the diploma/certificate program offered by AMD in collaboration with the Pentecostal Theological Seminary. Since that time, AMD leadership has been in ongoing discussions with the organization to assist in the review of leadership development and ministerial enrichment opportunities for eventual certification.
The certification process consists of meeting a series of institutional and educational standards that insure quality in operations and training. AETH's standards have been approved by the Association of Theological Schools (ATS) as satisfying the criteria for admission with seminary members of ATS. The Church of God of Prophecy is an institutional member of AETH.
"Our time during this training was tremendous" said Brian Sutton, executive director of LDD. "As our team discerns together the Spirit's leading, and further responds to open doors, I believe we will continue to be amazed at the hand of God and opportunities for equipping we will be able to provide for our global church family."
AETH is just one organization working with COGOP to establish certified/accredited programs offered from our ministry departments.
To learn more about AETH, you may visit http://www.aeth.org.